I posed this question to my Facebook friends, "If you're an old goth who wears a nu-goth top, does that make you a born again goth?" Of course I say these things in jest as I have a really good sense of humor about my tastes, lifestyle and fashion. I don't normally like to feed into the 'what is this and what is that' monster machine, but I since my most recent purchase made me giggle about the nu-goth trend and how upset people get over it.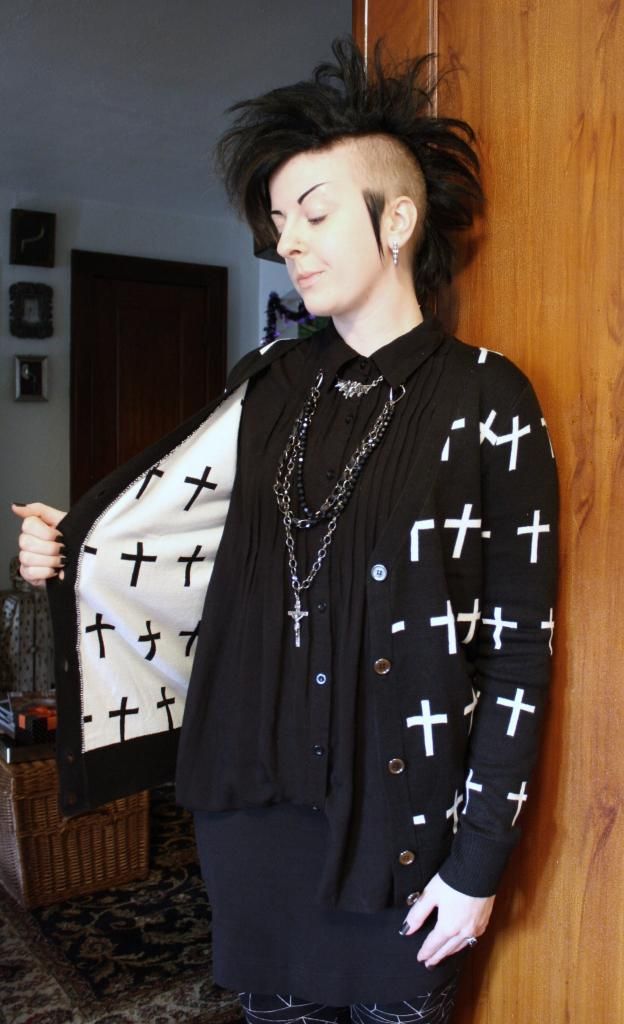 Cross Sweater, Forever 21. I love the inside details
The question is, how could I
not
love this sweater, it's covered in crosses! My little gothy heart went a flutter when I saw this on Forever 21's web site and the price was right at $25. I'm impressed with the quality!
Now my opinion on the nu-goth trend is this, if I can walk into a store or shop online to find things that are my taste and style, how could I not enjoy it? Though this trend is based on just fashion and not focused on the other aspects of goth including the music and culture, that would have to be another discussion for a different blog (there are plenty of people bitching all over the internet). -Shrugs- I bought this sweater because it has giant crosses all over it, which is in my tastes and I like black and white. I also really love crosses, a lot. Hehe!
Thanks for reading!
XOXO-Meagan Kyla