My parents are still in town and we went shopping at the mall. My mother and I always enjoyed shopping together in my teenage years, so it was a nice treat to get to walk around and browse with her and my father.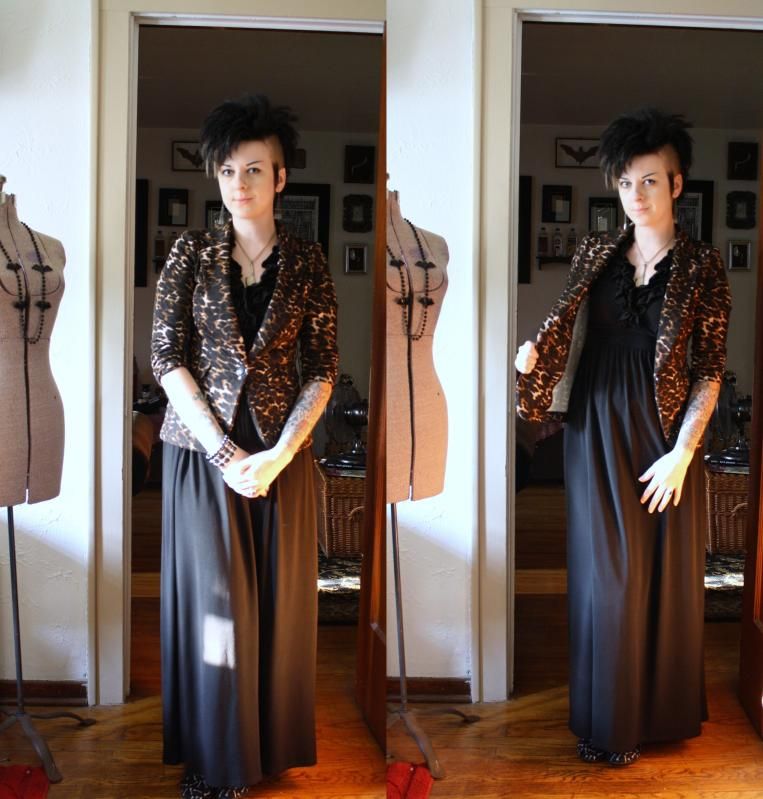 My mom treated me to this cotton leopard blazer, it was the last one on the sales rack at
Charlotte Russe
and it fit! The store was having a 'buy one get the second half off' sale, yet I didn't find anything that I really loved. So, I just contently walked out of the store with my one purchase, Thanks mom! I love to shop a sale, but it's not worth it if it's just going to sit in my closet, even if my mom is treating. *Wink*
The black ruffled dress was worn while shopping and I thought it looked cute with the new leopard blazer, it's a repeat from my
Tiki Surprise!
blog. The dress has grown on me and I even got a lot of compliments on the dress while shopping and my mom dug it on me too. I used to wear long skirts, dresses and wide legged pants all the time, for some reason I just think it looks dated on me (in the Meagan in high school sorta way), yet I'm a fan of the long and flowy look on others. It's all about finding the right mood and fit!
*Dreaming of cooler jacket weather*
Thanks for reading!
XOXO-Meagan Kyla