I gave my blog a little update which included the background and my newest banner by
Melanie Beitel design
, who happens to be one of my bestest friends in the world. I LOVE the new banner as I'm a sucker for that creepy font.
Since I'm in the decorating sort of mood and Halloween is almost here, I wanted to share a little bit of my home with some photos. It's definitely "Everyday Is Halloween" in our household, but we don't keep our Halloween decor out all year long....we just sorta live it. I'm very much into Victoriana, Memento Mori art and making Mid-Century Modern creepy. I'm always moving things around in our apartment to keep things fresh and since we have such a small place it keeps me from going mad. There are a lot of photos, I hope you enjoy my passion for DIY home decor.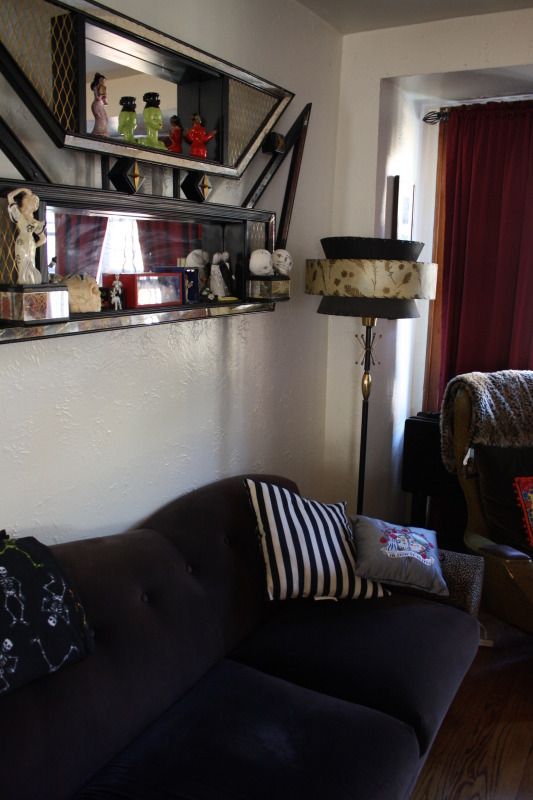 That 50s shadow box was picked up by Derek at a garage sale for $10!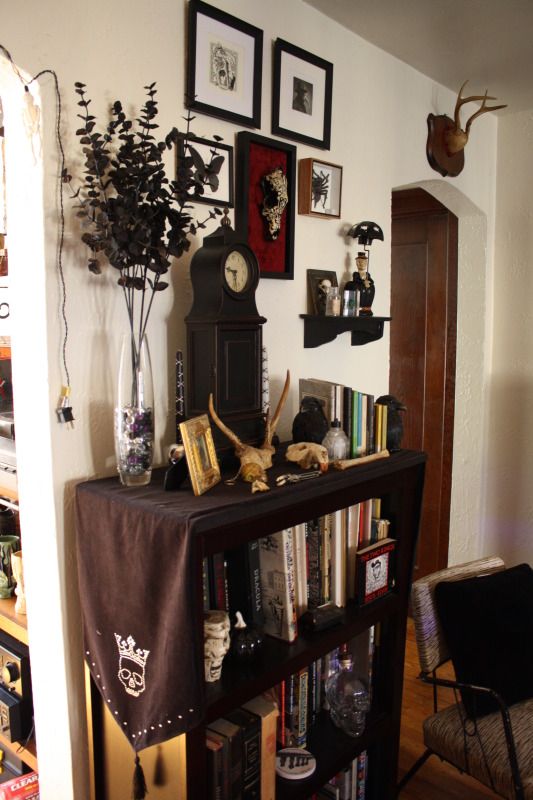 Bones, skulls, Gorey books and taxidermy. We love books too!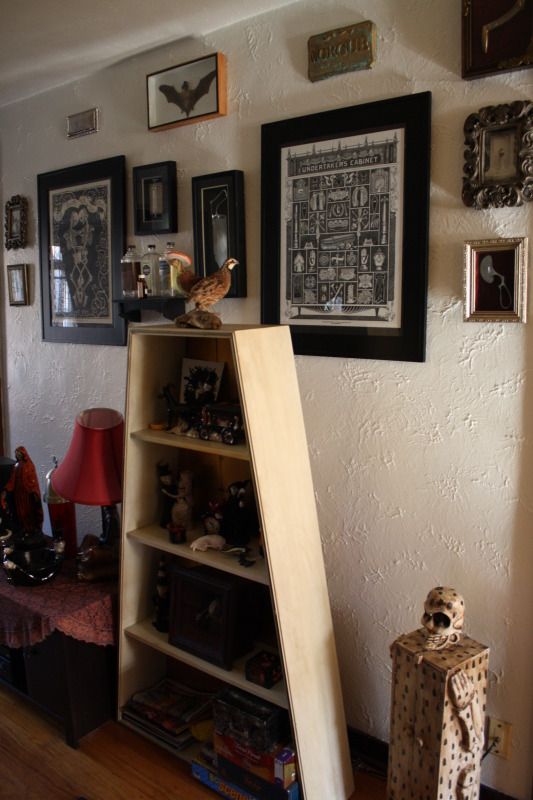 Framed vintage medical instruments, Madame Talbot prints, and various memento mori items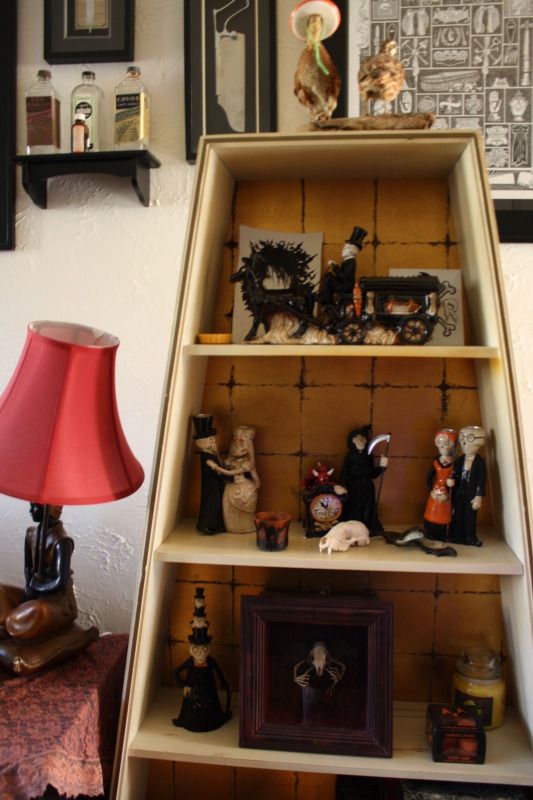 Closer look of the shelf with the Boney Bunch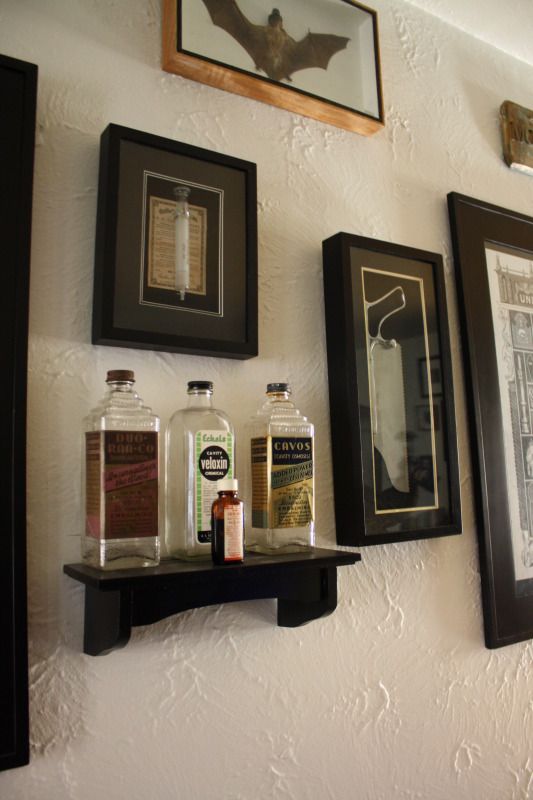 Closer look at the wall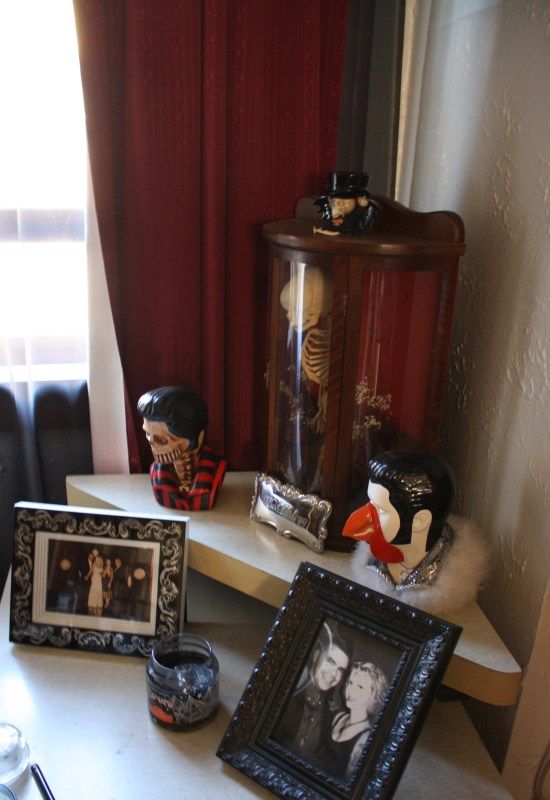 50s corner table that we got for free from a kind lady at a garage sale. Cleaned it up and it's perfect!
The Elvi are Derek's creations, he makes satirical Elvis busts under Suffering From Elvis Disease.
The red and black striped Skullvis was made for me <3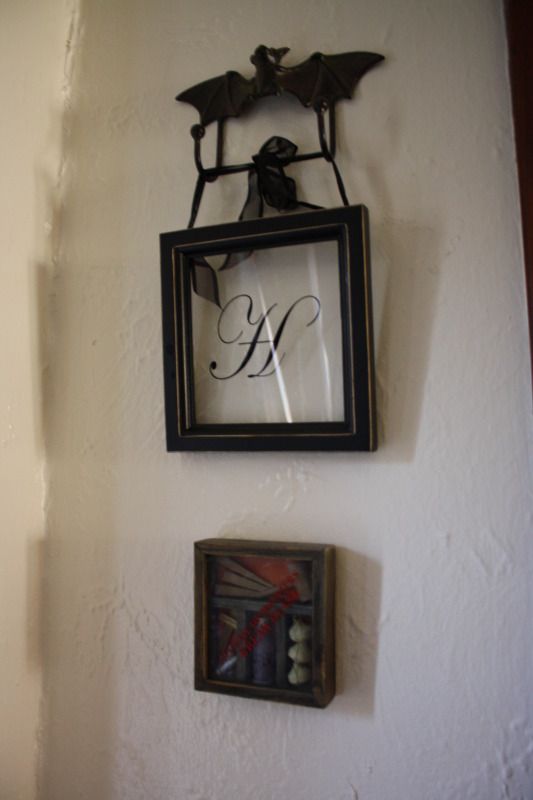 This is a small space right by our apartment door. The little box reads "In case of monsters, Break Glass"
Thanks for visiting my living room! I'm looking forward to shopping the stores for Halloween items to add to the kitchen and bathroom. I really like to use spooky hand towels, oven mitts and glasses all year round. If it's got a bat, coffin or spider/spider webs on it, it's like my kryptonite!
Photo of my first Target haul. The spider web item is a mini throw rug for $2.50!!
How do you like to decorate your home?
Thanks for reading!
XOXO-Meagan Kyla