I was having a little issue trying to get everything to link back to Miss Sophistique Noir's Monthly Theme, so I'm a little late! I like to think "fashionably late", hehe! This month's theme is bows and I sure do love bows! The outfit pictures below is from Christmas Eve 2011 and I'm wearing a black and white bow patterned skirt by Switchblade Stiletto.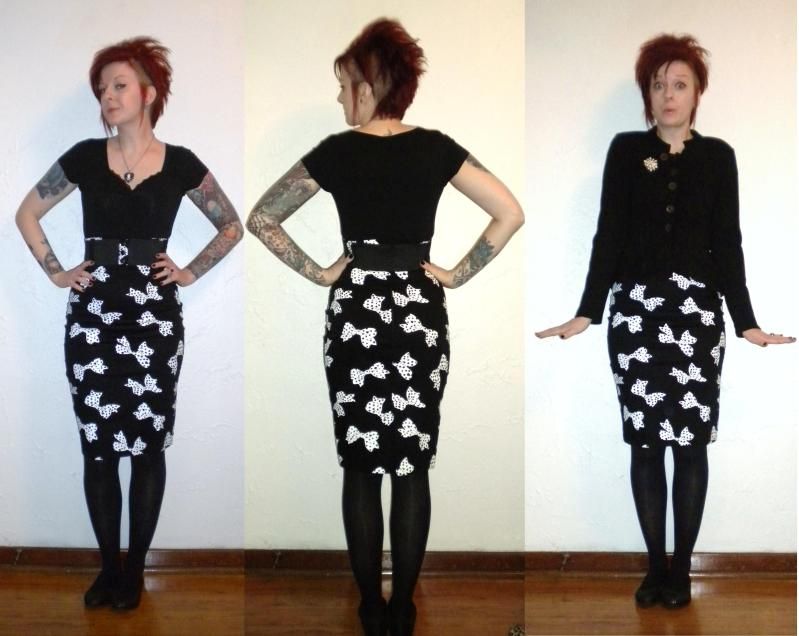 These photos sorta suck. Blech.
This skirt is currently up for sale on my ebay as I'm not in love with the way it looks on me and I'm doing a closet purge and this lovely item is getting the boot. Why don't I love it on me? In order for me to wear it I have to wear a long line shaper to smooth out all the lumps and bumps. I'm not scared of support garments, I'm just getting tired of wear layers upon layers under pencil skirts in order for them to look good on me. I'm not a perfectionist, I just know when something doesn't really suit my shape and I know this skirt emphasizes things I want to minimize. *Wink*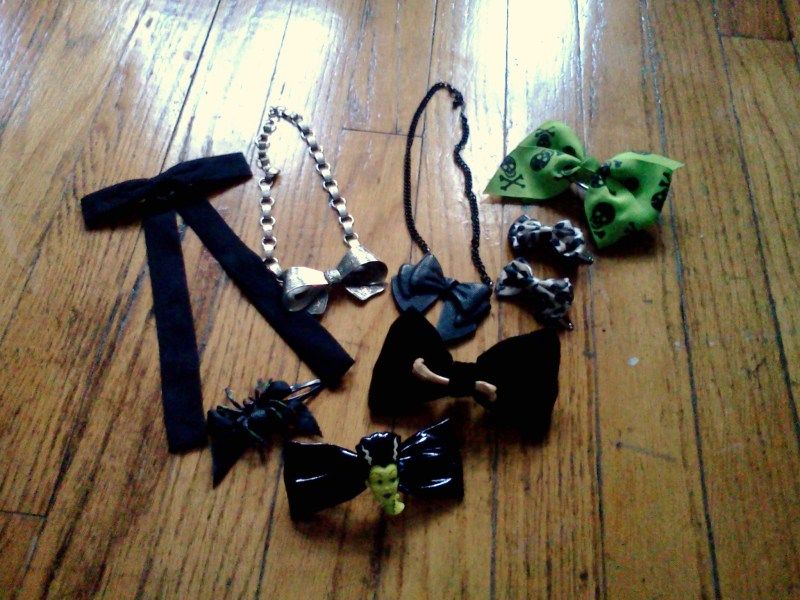 I enjoy incorporating bows into my outfits through accessories. The piece all the way to the left is my trusty western style ribbon tie which I add to button-up collared blouses for a little more fun! You can get ribbon ties in a variety of colors, I have a vintage silver/red rose patterned ribbon tie that I just reminded myself I have.....somewhere.
I might as well incorporate my Shoes! OMG! post as I found a pair of shoes that fits the theme! Check out the
De Blossom Cailie Shoe
.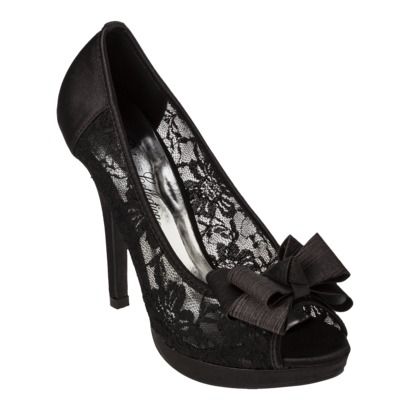 The peek-a-boo lace sides really made me love these shoes. Along with the unique bow detail and elegant overall look of the shoes makes me want to pair them with a romantic 1920s inspired drop waist dress. I see the 1920s influence creeping into the trendy store's with romantic and flowing fabrics. If there is black lace, I will be there to "ohhhh and ahhhhhhh".
Thanks for reading!
XOXO-Meagan Kyla