My Tiki skull mug. One from our vast collection
Alllllllright! Ohana part 2! Did I mention how much rum we drank? A LOT! I'm detoxing this week as I think I may have turned into a partial pineapple (a rum infused one). Friday continued on with the room crawl in the evening in which attendee's volunteer to host a event in their room, basically they make drinks for everyone! Each room may or may not have a theme, yet they mix up tropical libations to share the aloha spirit. Mmmmmmmmmmm! Before we embarked on the slow stumble to the designated rooms, we put on our B.U.T.T fez's!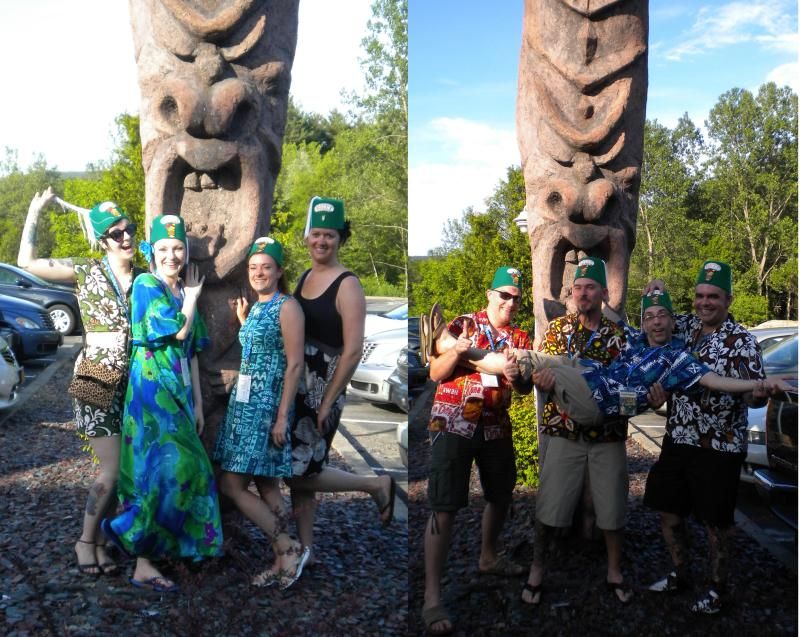 Ok, what is up with the fez's? Well fez's are something that a lot of people will wear in the Tiki/lounge culture or like the
F.O.M
who organized the Ohana event. Basically the first Ohana we attended I inquired about how to become part of the F.O.M and was met with a scoff and told that they don't just let anyone join (don't get me wrong they are all really nice people!) Well, as our little Buffalo Tiki group grew we all decided to get fez's and call ourselves, Buffalo United Tiki Talk or B.U.T.T for short.....we're really mature. *Wink*
We're still working on the official design, but it's all in the spirit of humor and well, drinking. Our group gets together now and again and we're planning on taking some more Tiki related trips together, Tiki roadtrip!?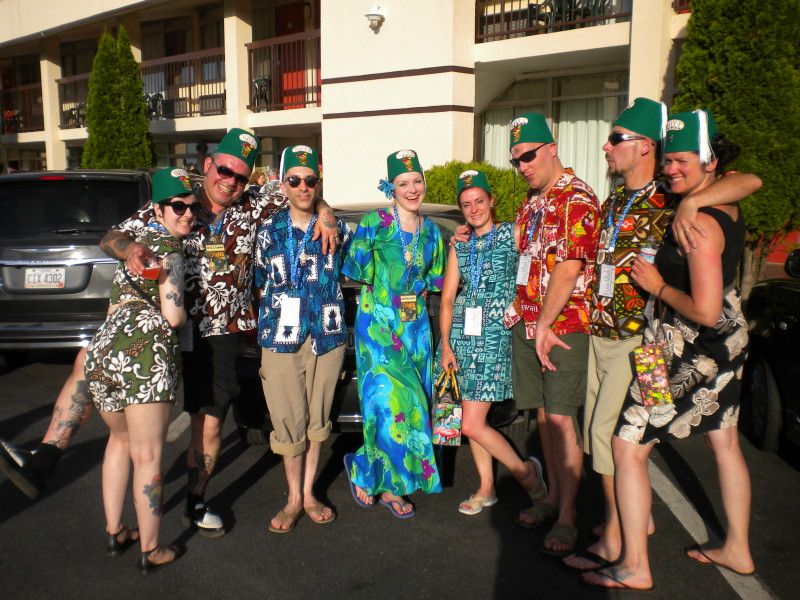 Drunk B.U.T.T's between rooms at the room crawl
One of my personal favorite rooms was the headhunter themed room, I have to admit I don't remember what drink they served or what was really going on as it was 11pm and we had been steadily drinking for almost 12 hours *hiccup*.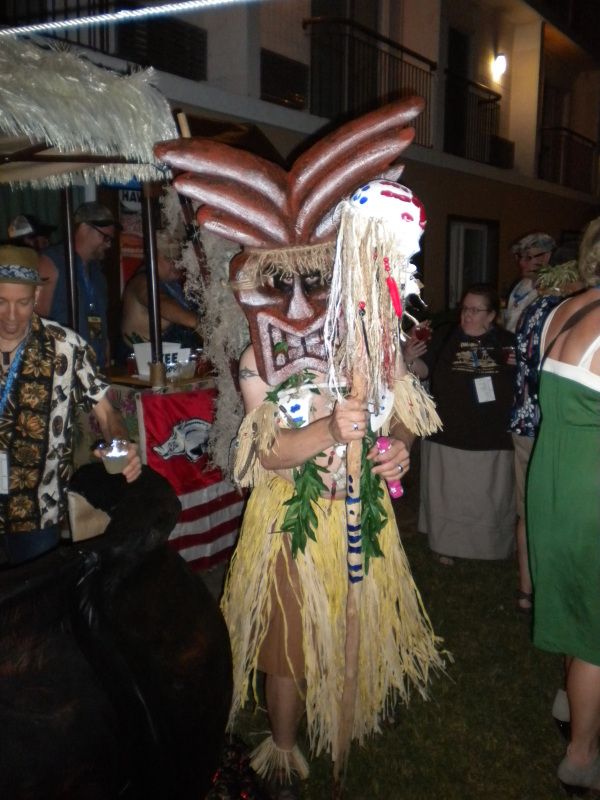 Headhunter!!!
They also had an cauldron which was an awesome photo opp, apparently Derek is enjoying being boiled alive. Hahahahaa!!!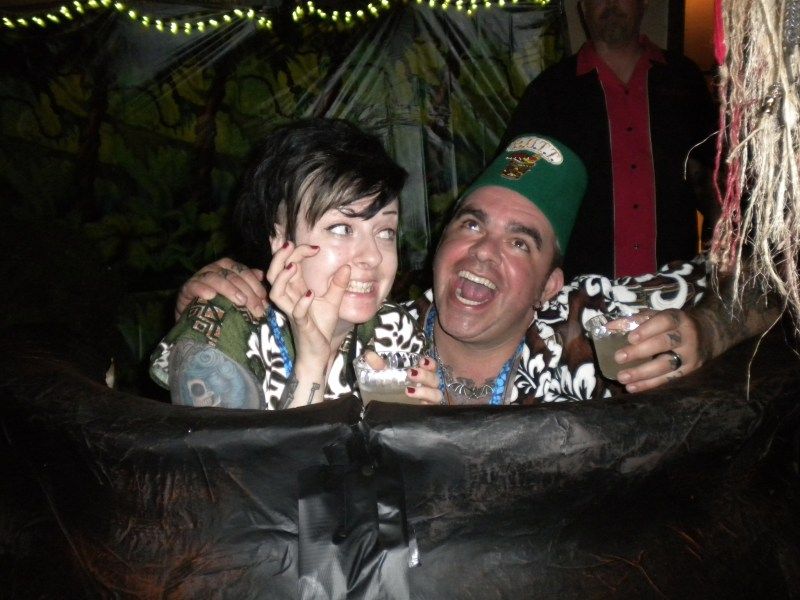 I laugh every time I look at this picture!
Did I mention we drank a lot? Well, this girl right here woke up with a slight hangover, yet there is no time to lay in bed all day at Ohana! Perhaps a lot of coffee, a starchy breakfast and some hair of the dog helped me to bounce back! Saturday afternoon was filled with; shopping at the vendor tent, silent auction, (insert a nap), making friends (I met Deidre and Andy from Sourpuss and they are AWESOME!), and swimming. In the evening all the B.U.T.T's changed into our matching outfits for the luau dinner and Polynesian show.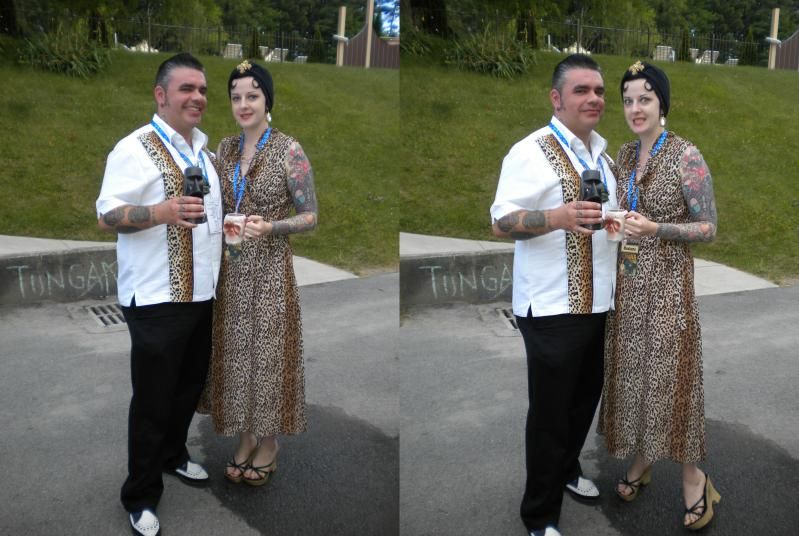 Looks like I pee'd myself with excitement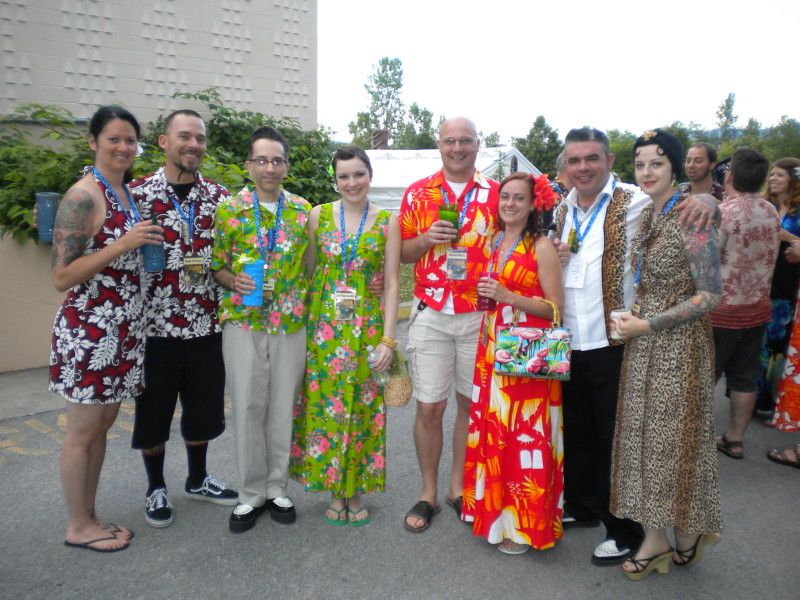 All in our matching outfits while in line to get the luau feast
Sunday was spent packing up and then heading on the road to make the journey home. Mahalo Lake George, NY for providing the perfect back drop to a wonderful summer adventure.
Thanks for reading!
XOXO-Meagan Kyla