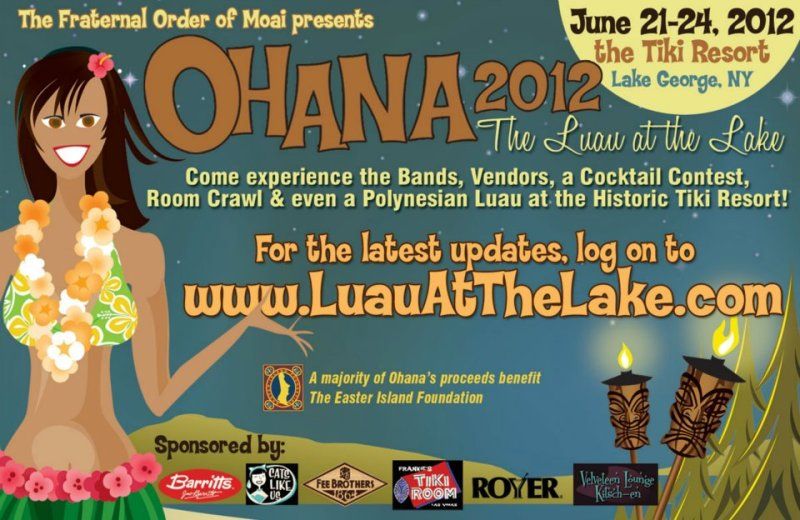 Phew! I just got back from a whirlwind weekend filled with rum, Polynesian delights, swimming and well, more rum, Ohana was once again a great time! This was our third year enjoying the scenic view of Lake George, NY while lounging about the pool at The Tiki hotel or peaking out the window and seeing the awesome Adirondack Mountains.
View from our room
We arrived on Friday around 1pm, the drive took about 5 1/2 hours and was a pleasant journey. Derek and I like to sing songs and crack lots of jokes, I think we both get a little goofy while we travel.....it's lots of fun! When we arrived we checked into the event which we both received our awesome swag bags filled with Tiki goodness, this year we even got some little bottles of rum!
I'm excited about those tumblers from

Sourpuss

!!!
Look it's me! The ad in Ohana Magazine for Cats Like Us
We met up with half of the Buffalo Crew (a.k.a B.U.T.T.'s, I will explain later!) that were already there, as we were jonesing to get in the pool and start sipping on some cocktails. After a few drinks you get pictures like this......
Pin up model? Naw, puke up model!
We did a quick change into our first of many Tiki outfits to hang out in our B.U.T.T. cave (which is a large tent our friends brought) to continue the many steady hours of cocktail sampling, grilling and making friends. We had an awesome party location in which fellow Ohana-er's would stop by and say hello! I think some people thought we all were a little insane with how much effort we put into our party spot, but Tiki is serious business (hahahaa, not!).
"To the B.U.T.T. Cave!" Our tent all closed up as it rained
on Saturday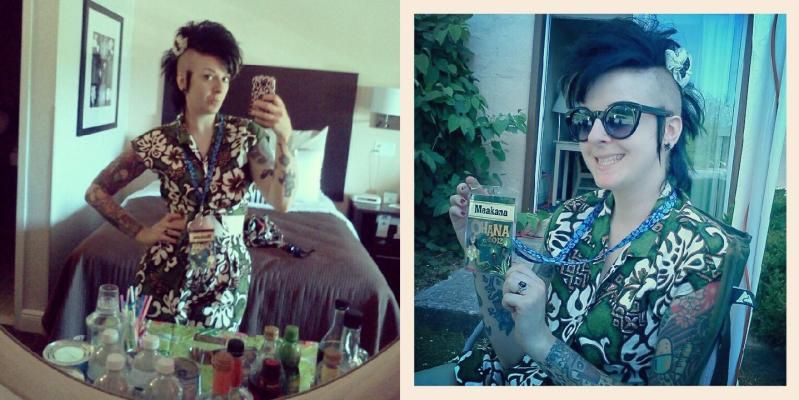 Even goth girls need some Polynesian delight!
Why do we travel to Ohana? Well it's an awesome small-ish event (the attendance is capped at 300 people), that is not about what you wear or what you do, it's all about the Aloha spirit! You don't have to have a Tiki bar in your home or even dress in vintage resort wear, you just need to grab your bathing suit, prep your liver and get ready to meet a lot of really awesome people! I love Tiki, it's a way of life!
Stay tuned for part 2 filled with more (drunken) photos and tacky Tiki patterned clothing....so awesome!
Thanks for reading!
XOXO-Meagan Kyla