I've been upcycling a lot of thrifted jackets for
my etsy shop
and they've have been selling things like hot cakes (mmmmm.....hot cakes), so I ventured out with my friend
Sarah
to replenish my depleted stash. I often restrain myself from buying everything in sight, especially jackets since I'm a self proclaimed jacket-o-holic. I do pick up things here and there to not modify to sell as not everyone has the patience, skill or passion to thrift. There is a world of awesome slightly used items out there! Well, I picked up this Betseyville light weight long ruffled sweater for $4 to resell.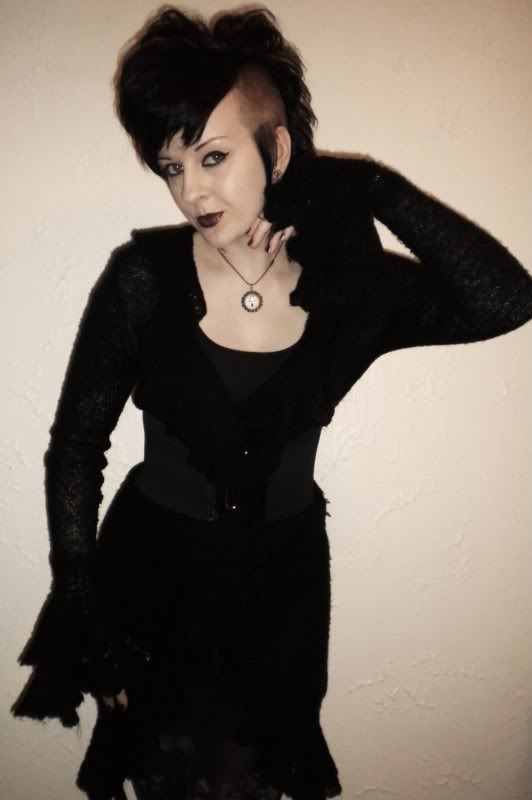 Once I put it on to photograph and paired it with my awesomely 80s stretch belt (picked up for $1 at an outdoor market) and my new pointy Demonia skull boots, I just couldn't resist keeping this lovely sweater. I have to admit the gothy ruffly sleeves really did me in, I love the drama!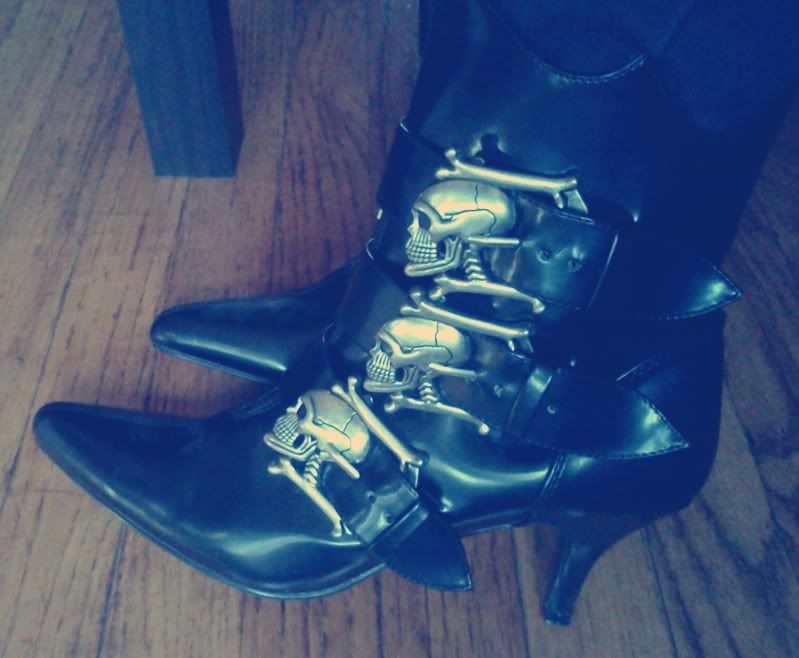 New pointy's from ebay $27
Goth salute? ? ? ?
It's funny taking photos of myself, sometimes I get slightly embarrassed when I post them and sometimes I'm drinking a glass of wine (or two) and just let the blogs fly! I really enjoy reading other people's blogs and since I think there is an art to dressing, makeup skills, and craft skills, I just hope others enjoy my little slice of the internet. I think that's what I enjoy the most about blogging, is getting a glimpse into another ones world that I may not normally have contact with, especially if we live on the opposite ends of the world. It truly is not vanity, it's sharing information about the regular world around you or perhaps the 'highlights' of who YOU are. Life is about celebrating yourself and being proud of what you can contribute to the world around you, you never know who's life you can touch with the slightest things. It took me a long time to realize that I love helping people look and feel good, it's truly a passion of mine. I believe every person has a special 'something' about them which can be expressed through the visual art of dress, in their own way, yet some just may need a little help getting there. The little shy girl who lives inside me has a special place in my heart for those who don't have the tools to break out of their shell, I can be your little push with my goofy antics and silly words. *Wink*
Weird tangent, I know. I've been pondering things I've been reading about people getting bullied on their blogs or feeling less than confident with themselves. I say, haters are going to hate and I'm not immune to it, yet I believe we're all allowed our little place in this world to shine. <3
XOXO-Meagan Kyla