It's officially ten weeks until
Luau at the Lake
in Lake George, NY! This is our big vacation in which we spend a whole weekend with other Tiki enthusiast's who take over
The Tiki Resort
in Lake George. The resort is the perfect back drop to a luau by the pool, underneath the stars, while sipping on cocktails. I feel more relaxed just talking about it. Ahhhhhhh...... I have mentioned Luau at the Lake on my blog before and have
shown some pictures
of the last two years we attended. This year I'm looking forward to meeting up with some of the nice people we've met and making some new friends! Oh, did I mention cocktails? Yes, there will be a lot of tropical libations consumed, in a leisurely time. *Wink*
Here's one to try, the Mai Tai which became popular in the 50s and 60s. You can find so many variations of the cocktail recipe, here is one that I enjoy.
Mr. Booze's Mai Tai recipe:
2 oz. Dark Rum
1 oz. Apricot Brandy
1 oz. Curacao (I would not recommend Blue Curacao it turns the drink a weird color)
1 oz. Light Rum (Also known as Silver Rum)
3 oz. Lime Juice (this is WAY too much for me, we cut it down to 1 oz.)
3 oz. Pineapple Juice
1 oz. Almond Syrup (if you have Orgeat Syrup, that is preferred)
Shake this up with ice and pour into a tall glass or Tiki mug
This drink is delicious and STRONG, it will have you doing the hula before you even ask for another one. I've been known to not even finish the first one and I LOVE Mai Tai's. *Hiccup*
Onto more Tiki..............
I've broadcast my Dippity Durr Meagan Productions videos in my Tiki Room and it's been moved around since then, though it's not finished I wanted to share our insanity with you. Please note, this is not all of our Tiki items, some are in storage.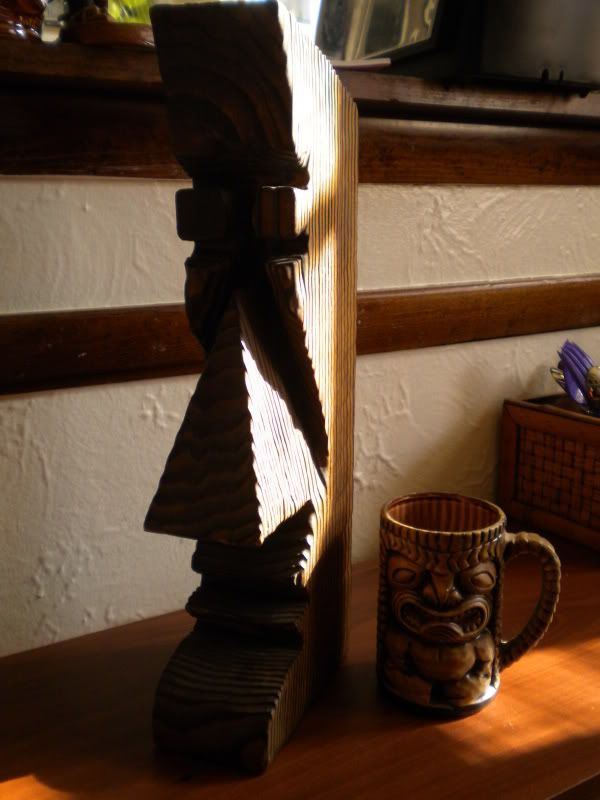 My husband and I picked up this piece of Witco (to the left) at a local vintage shop. You should have seen the look on his face when he found it, like he had found the Holy Grail. Witco is pretty damn ugly, but it's nice to own another piece of it. The first piece we have Derek found at a garage sale for 75 cents and it was beat up, he fixed it up and it will go on the wall....somewhere. Witco art is best known adorning Elvis' Jungle Room at Graceland. It's so ugly and tacky, just the way we like it.
Here are some more views of our Tiki room, mind you it's supposed to be our dining room. Pfffft, who needs a place to eat when Tiki's need a place to thrive and multiply. Well, eventually we'll up a table and chairs in here. Maybe. Hehe!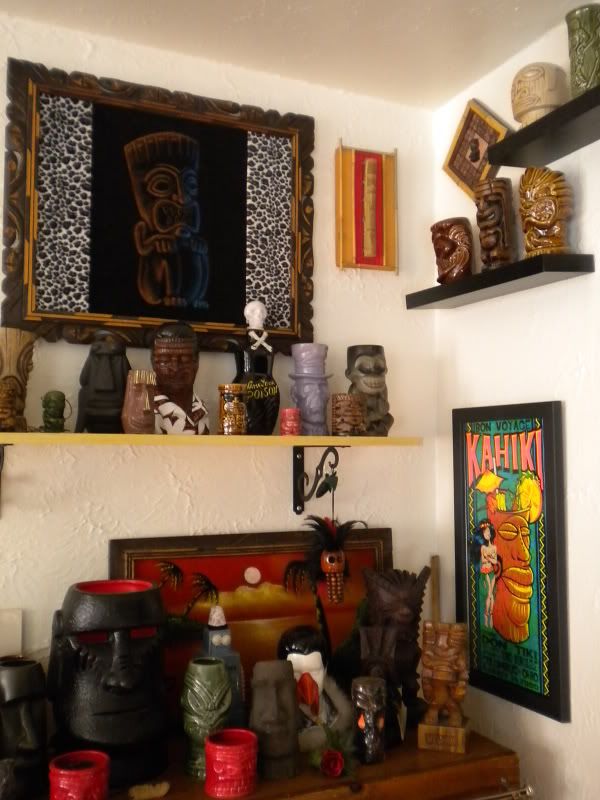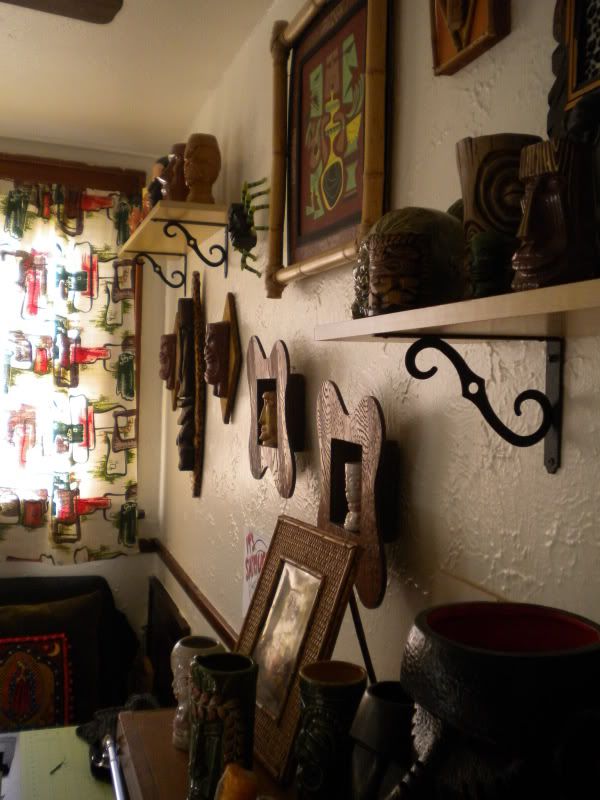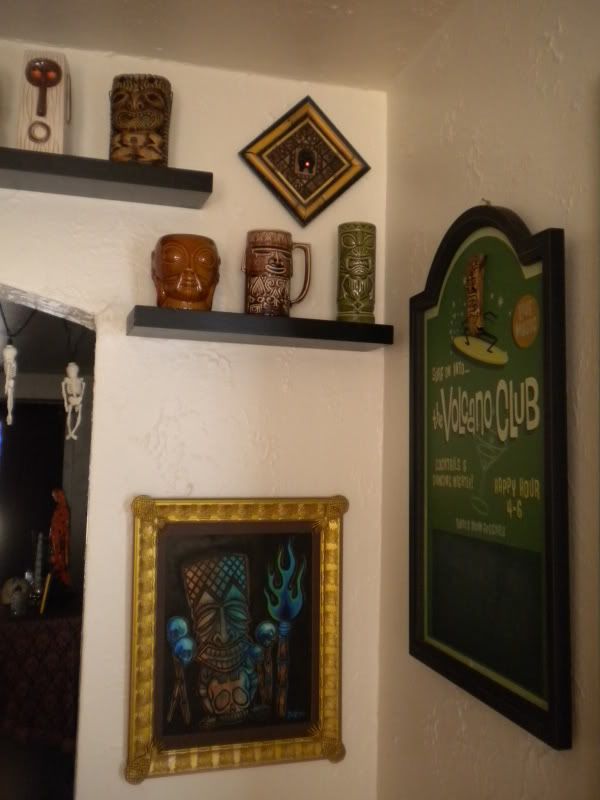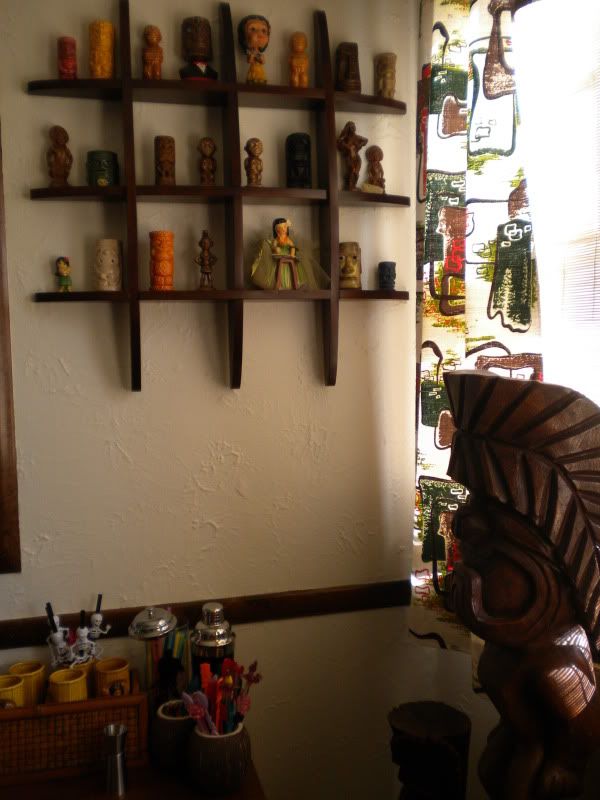 The room is rather small, but at this apartment I'm wrangling it all in one spot without it spilling over into our living room. I like to keep our "morgue chic" as my friend Danielle likes to call it, separate from the Polynesian madness.
Thanks for reading!!
XOXO-Meagan Kyla